It's been 2 months since moving in with my ladyfriend and at long last I've hooked my stereo to my computer so that I can resume DJing. However, before I can begin I've got to allow Traktor DJ Studio 3 to analyze my MP3 collection.
Analysis isn't entirely necessary before I can start mixing, but if I don't do it in advance it will analyze on song load which puts more strain on the CPU (increasing the chance of skipping) and it progresses much more slowly since playing an MP3 is a surprisingly system-intensive function. Plus, it's nice to have analyzed MP3s because this provides a peak graph (which visually shows the song waveform) and automagically detects the beats per minute (about 95% accuracy).
So I've instructed Traktor to run a batch analysis on my entire DJ collection, weighing in at a hefty 30-odd gigs. It might take all day.
Large batch multimedia processing is a job best performed by Intel processors, while AMD chips are usually the best for gaming. I do a lot more gaming than multimedia so I still stand by my choice to buy an Athlon 64 X2, but today I'll pay the price while my system speed is degraded during this long processing job.
Or will it?
I admit I've seen little or no improvement in speed with my new CPU – most of the HUGE improvements I enjoy are thanks to my tear-jerkingly incredible 7900GT. Today, however, is a happy exception, as illustrated below: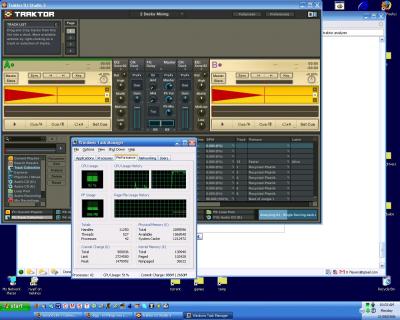 As you can see in the upper two graphs, dual core has saved the day! My audio analysis job is isolated in the second core, maxed out at 100% load, while the first core stays cool as a cucumber. This means that I can enjoy nearly full speed computing while the second core is dedicated to the monumental task of processing 30 gigs of audio peaks. What a treat!
A recent ad for Dell or some other crappy manufacturer markets dual core CPUs as something that allows you to watch a movie, rip a CD, browse the web, and edit documents all at the same time (like a menstrual pad advert for nerds). This is true, I suppose, but don't run out to buy a dual core CPU due to this hogwash. I am a power user through and through and today is the first time in about a month that I've really taken advantage of it. Dual core is probably a moderately future-proof technology – it will run games and apps pretty well for the next year or two – but if you're looking to upgrade I think it would be wise to wait until later this year when quad cores come out. No doubt Dell will recommend being schizophrenic, double jointed, and ambidextrous in order to get the most out of one of those babies.
Can't wait to start making loud banging noises once again! Let's see what the neighbours think!
And if you'd like to enjoy some free origianl electronic music songs and mixes check out my web site and DJ blog.