The heyday of cutesy internet personality tests has come and gone, but I still enjoy taking The Political Compass test every few months. Normally I take such a test once and stick a fork in it, but for the most part I'm politically naive, and my wife is a politics junkie with me cursed as her closest pair of ears so my various political opinions and motivations change rapidly as she challenges me.
My scores, determined yesterday, are as follows:
Economic Left/Right: -5.88
Social Libertarian/Authoritarian: -6.46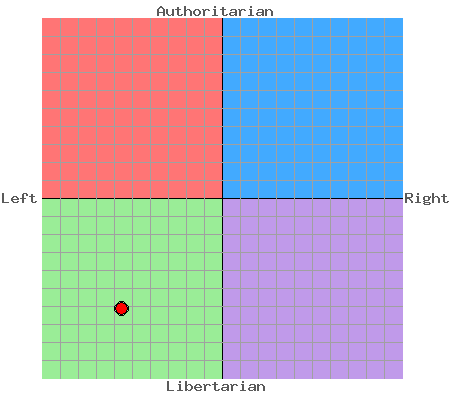 To my surprise I am just as libertarian as ever before, but have edged significantly closer to centre since my last test (which put me at about -7.50 to the left as I recall). This classifies me as politically compatible with the Dalai Lama and Nelson Mandela, though I'm even further southwest than those radical luminaries.
I have a love/hate relationship with the Political Compass test. Every time I take the test I become more aware of how ambiguously phrased the questions are, and find a new excuse to answer a question in a completely new way based on an unspecified exception. This is quite brilliant because, I suppose, the means classify your political slant more than the ends do.
For example, one question is phrased "mothers may have careers, but their first duty is to be homemakers." I answered this question with "Agree", and my wife answered it "Strongly Disagree". We both disagree with the phrasing assuming it is exhaustive – we both disagree that a woman's place is in the home, barefoot and pregnant. However, I don't see the phrasing as exhaustive and I believe a husband's first duty is to his home and family which is why I answered the way I did. We're both correct, yes?
I urge one and all to take this test to see a summary of your political position based on your opinions of specific scenarios and morals. You might be surprised with the outcome.