In the early 90's I was absolutely fascinated by the demo and mod scenes. I found nothing more exciting and wonderful than the concept of creating animated, interactive art and professional, emotional music with an ordinary PC. After cruising local modem BBSes for a few years I decided to be proactive and try my hand at composing my own MOD music. With the kind help of Toronto local MOD tracker artist bObby, I learned to use the free ScreamTracker 3 program for MSDOS to arrange prerecorded digital audio instruments on a sort of hexadecimal staff from 00 to FF (0 to 256 64th notes arranged into four 3F [64] note bars).
Here's what one pattern looks like in one of my songs. For convenience and illustrative purposes I've taken screenshots using ModPlug Tracker for Windows: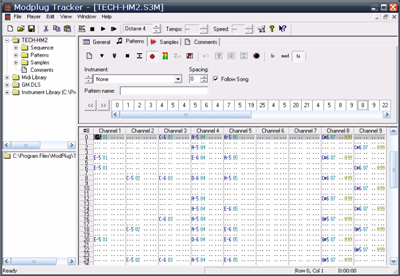 And here's a breakdown of what the various columns represent:
I've recorded a screencast of my second-ever song, Technophrenia, and uploaded it to YouTube. Take a quick look to see how the plotted notes correspond to the sounds produced.
[youtube:http://www.youtube.com/watch?v=iLI1RfFhLs4]
I've written nearly 2 hours worth of music over the course of over 4 years under the nom de plume (or is that nom de clavier?) Hypnotic Melody. If you'd like to hear more, check out my Brian's MOD Music page. I wouldn't dream of ever charging money for my music, so enjoy, share, DJ, remix, and republish (with my name) as you please.