I had to do a quick hack-job on my blog a few days ago when one of my plugins stopped working. It was a plugin that rewrites page titles to make them more search-engine friendly (by rewriting it so that the story title comes first and the blog name comes second) so it was no big loss – I found instructions on doing it manually.
Unfortunately, the next day 3 more plugins decided to go kaputski, even though my blog was displaying just fine that very morning! These were integral plugins too, including my beloved Spam Karma 2 whose impressive results can be seen by scrolling to the very bottom of any of my blog pages.
Heres' how my blog looked when everything was hunky dory: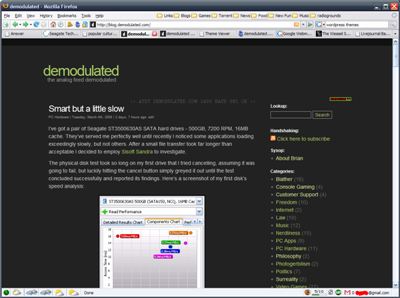 And here's how it looked with erroneous plugins activated:
Absolutely random and inexplicable. Individual articles rendered just fine but the home page and categories gave up before trying to display them. The only thing out of the ordinary that I've been doing lately is using the freeware desktop blogging client BlogDesk, but I've used it many times before and can't fathom what it could have triggered that would cause my theme to crap out while idling.
And yes, I confirmed that the issue is my beloved Tranquility theme by Roy Tanck by successfully applying one of the default WordPress themes with all my plugins enabled:
The WordPress Classic theme, above, is actually pretty classy and attractive, but too white for my liking. To my great horror the official WordPress Themes site has been down these past 24 hours, leaving me with limited options and forcing me to wade through a sea of SEO-optimised pay theme sites.
With phenominal luck I happened by this intriguing theme, chasmogamous, designed anonymously for the website Free CSS Templates. Here's what demodulated looked like for a split second before I pulled out my hacking shears: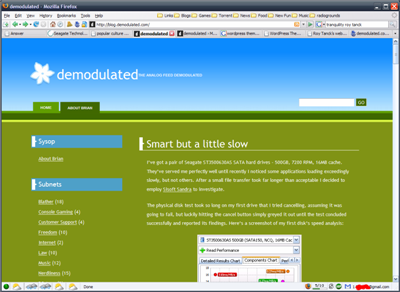 My eyes twinkled at the endless hacking possibilities when I saw my site rendered like this. After familiarizing myself with widgets for the first time, removing the graphics and some other elements, increasing the font size, and adjusting the spacing, my blog already looked like this after barely an hour of effort:
It's fun and fulfilling to tweak a new theme, but I admit it feels unnecessary and I do miss my old theme. I hope this drastic, sudden measure won't be necessary again any time soon, but I am impressed that my old theme withstood over a dozen WordPress updates in addition to countless hacks and near self-imposed catastrophes.
How do you like the new theme? I'm not sure whether I'll stick with it but I like it so far – especially the Trebuchet MS typeface of various elements such as the word "demodulated" in the title. The stylized lowercase "L" really speaks to me.
Thanks for your patience while I restore most of my old features and reconsider others (perhaps I don't need so many links on the sidebar). I'm sure I'll find elements to fix and tweak for months still.